Fully Licenced & Insured
Expert Technicians & Staff
FREE Consultation
Bathrooms can often be a Petri dish of all kind of germs.
But it can get a whole lot worse if you have faulty plumbing. Several different types of bacteria and germs already thrive in clean bathrooms. However, these germs only get more aggressive the longer they have a sustainable environment.
Bathroom Plumbing, Drain Repair & Maintenance Services
Bacteria like fecal matter, influenza, streptococcus, and even E. coli are commonly found household restrooms. Bathrooms are already damp enough to create a thriving ecosystem of bacteria. So, when you add stagnant water with corroded and clogged pipes, you can create a frenzy of different disease-causing organisms.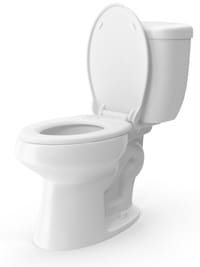 Yearly maintenance could eliminate the risk of corrosion, cracked, or clogging pipes. We have the best technicians around to inspect your drains and pipes. Our staff will ensure you have a strong and healthy plumbing system. Plus, we equip our vans with the highest quality parts to enhance the performance of your plumbing.
Our Bathroom Plumbing, Drain Repair and Maintenance Services
At Eco Plumbing Heating & Air, we offer a wide array of services for your bathroom. Our goal is to set you up for a safe and easy to clean bathroom. Some of our bathroom plumbing, drain repair and maintenance services include:
Cracked, broken, offset, or collapsed pipes
Erosion, soil settling, frozen ground, etc. can cause long term effects.
Blockage
Dirt and grease build up over time from continuous use.
Corrosion
Corrosion often starts over a long time. It can cause excess build up leading to blockages or weak spots resulting in broken, collapsing pipes.
Root infiltration
Over time tree roots can start to grow into the pipes underneath your home. This can cause them to crack and break.
Frozen or burst pipes
If temperatures reach below freezing, the ice that builds up expands and creates pressure.
Leaking joints
This happens when the seals around the joints of your pipes start to deteriorate and tear apart. Eventually, they start to leak and the best thing is to do is call a licensed professional.
Faucets
Water pressure issues, leaking, or dripping.
Tubs
Drain issues like rust or a  slow drain.
Hot water issues
Bathroom fixtures and replacement
If your toilet is wobbling or you have a leaking faucet, etc.
Speedy Service for You
No one wants to go without a properly working bathroom for very long. It's inconvenient and nothing but a pain in the neck. So, we want to provide the best experience possible. We also want you to have a bathroom that works again, and speedily too.
Eco Plumbing Heating & Air will get your bathroom back up and running in no time. Our experts are trained and ready to handle any disaster your bath room may have in store. They are on standby 24 hours, 7 days a week. Plus, we can guarantee you will be 100% satisfied with our work and we won't quit until you are.
We believe it's our duty to give our customers the best service you could possibly provide. So, we are committed to being an honest, integral, and trusted service provider in our community. That's why we have a wide variety of services. Our employees enjoy their work and it shows! Don't wait any longer — find out more by calling us or visiting our website.
Call Now For A

FREE ESTIMATE

On New Replacements Or Installations
Bathroom Plumbing Includes:
Cracked, broken, offset, or collapsed pipes
Blockage
Corrosion
Root infiltration
Frozen or burst pipes
Leaking joints
Faucets
Tubs
Hot water issues
Bathroom fixtures and replacement
Questions?
We're always happy to help!