Fully Licenced & Insured
Expert Technicians & Staff
FREE Consultation
Repairing Frozen Pipes in North Jersey
Frozen pipes are nothing but a disaster for any home or business infrastructure. Don't stress though because Eco Plumbing, Heating, and Air Conditioning can help you prevent frozen pipes and can assist with thawing them! We're the experts on all residential and commercial plumbing so you can trust you're getting the best services from professionals! When winter sets it pipes are exposed to extremely cold temperatures which will freeze the Frozen pipes. This could then lead to the pipe bursting and leaking thus causing damage to your home or business.
Repairing Frozen Pipes in North Jersey
The last thing you need to deal with is flooding and water damage. At Eco Plumbing, we've seen too often the result of frozen pipes and that's why we're here to help unfreeze and repair your frozen pipes 24/7! With our years of experience and state of the art equipment, we can fix and protect any frozen pipe!
Why do pipes freeze?
Before we go into what we can do to help, it's important to know why pipes freeze. Pipes don't freeze simply because it's cold. Some pipes are more susceptible to freezing than others due to their location, and those are the ones you need to plan ahead for!
How can Professionals from Eco Plumbing help unfreeze pipes?

At Eco Plumbing, our plumbers are fully licensed and insured to assist you with any frozen pipes! If you do encounter a frozen pipe, call Eco Plumbing immediately! We're here 24/7 and will send a certified plumber to your location as soon as you call. We have the necessary tools and equipment needed to thaw your frozen pipes.
In the event a frozen pipe bursts and there's flooding, shut off the water main and call us for immediate flood assistance and frozen pipe repair!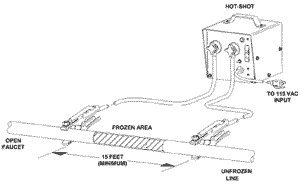 Eco Plumbing is highly experienced when it comes to frozen pipes and we do everything we can to protect your pipes from freezing and needing repair.
How to prevent frozen pipes?
For any indoor pipe that could be troublesome, we recommend either foam pipe insulation or wrapping the pipe with heat tape for severely low tempered climates. If a pipe is located in an exterior wall consider if the insulation needs to be replaced or possibly rerouting the pipe. If you're worried about plumbing in the kitchen or bathroom, one common trick is to leave cabinet doors open so that warm air from your heater can have access to the pipes. As for any pipes located outside, you want to disconnect anything hooked up to your pipes such as hoses. You can also call Eco Plumbing anytime 24/7 to come and insulate pipes and unfreeze any frozen pipes if any. Call us today for a free quote!
Discover Our Plumbing Services in Teaneck, NJ
Discover Our Plumbing Services in Edison, NJ
Discover Our Plumbing Services in Rutherford, NJ
Discover Our Plumbing Services in Clifton, NJ
Discover Our Plumbing Services in Jersey City, NJ
Discover Our Plumbing Services in Nutley, NJ
Discover Our Plumbing Services in Lodi, NJ
Call Now For A

FREE ESTIMATE

On New Replacements Or Installations
Proper Insulation Can Help As A Preventative Measure Against Freezing
Questions?
We're always happy to help!